SERVICE
Renovation Business
For the Health and Beauty of People and Buildings

(Water Pipes Renovation Work)
The water supply facilities of a building are an important lifeline. The Guidelines for Long-term Repair Plans prescribe the repair of water pipes at 15-year intervals. Nihon Keisou offers an economic solution for repair work. The pipe lining work we propose can greatly reduce the cost of repair work.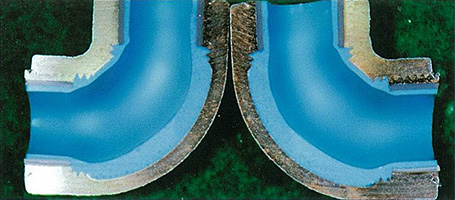 Inside the pipe after pipe lining
Difference between Renewal and Renovation
There are two methods for repairing water pipes – renewal and renovation. The cost of renewal work is approximately three times higher than that of renovation work. In some cases, the water pipes need to be exposed on the occasion of the renewal work due to the building structure. The exposed piping damages the aesthetic appearance of the building. Instead of costly and laborious renewal work, Nihon Keisou proposes economical and labor-saving pipe lining renovation work. Pipe lining renovation work does not damage the aesthetic appearance of the building.
Nihon Keisou is an official member of the Japan Pipe Lining Industrial Association and NPC Pipe Lining Association.
Renovation and Maintenance of Condominiums
Nihon Keisou considers a home as an important property. Based on our years of experience and expertise in constructing buildings, we renovate and maintain condominiums to keep them beautiful and comfortable for as long as possible.
Click to see other businesses.
Beautiful and functional aluminum building materials are available from Nihon Keisou.
ALC boards and extrusion molded boards used for high-rise buildings and commercial facilities are available from Nihon Keisou.